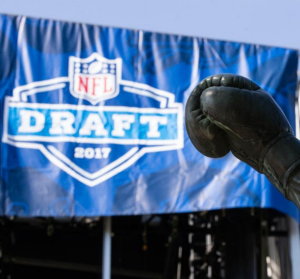 Last month, the NFL is held it's annual draft in Philadelphia.  The location, a stone's throw from our neighborhood, was in front of the Philadelphia Museum of Art, home to those iconic steps made famous by a fictional boxer 41 years ago.  For municipalities and businesses, positive exposure is essential; for a city that has rebounded from three decades of decline, this exposure shows the world that Philadelphia 2017 is a very different place than the often-knocked Philadelphia of the 1960's, 70's and 80's.  Like the Papal visit in 2015 and the Democratic National Convention in 2016, our neighborhood welcomed the opportunity to showcase our city so others see what a thriving place it is to visit, work, or live.  We also understood the "no pain, no gain" ethos that accompanies these events and how important they are for our city, so we were prepared for the requisite inconveniences.
However, something was very different in how the NFL Draft unfolded, or shall I say, descended upon our community.  The city allowed the NFL unimpeded access to Philadelphia's center city, which included shutting down major roadways and transportation arteries, significant parking restrictions, and pubic transportation route adjustments well in advance of the draft.  Now those who live in this area are used to detouring around events (hence the "no pain, no gain mantra), but instead of facing 3-4 days of inconvenience that occurs with other events, we experienced almost a full month's worth.  This was odd, because unlike the Pope or the Democratic National Convention, which garnered world attention, the NFL Draft garnered the attention of die-hard football fans, a much smaller lot.  And although the draft drew out of town guests, which was great, our local community was left smoldering with frustration and anger as helicopters incessantly buzzed overhead for hours on end and massive gridlock met us as we took our children to school or traveled pretty much anywhere.  The pain was far exceeding the gain.
If one looks at a municipality like a business, its customers would be the city residents and visitors.  And in business, we know if we ignore part of our customer base, well, our business suffers as a result.  For the Draft, city organizers contacted some neighborhood groups, while others were left in the dark.  I don't believe this was intentional by any stretch, rather a glaring oversight.  But as a result, people started to tell themselves stories about how the city felt about them, about how their experiences didn't matter. I firmly believe the city did care, but the problem was their actions, or lack thereof, led folks to believe otherwise.  And trust me, when I say folks were pissed, even my die-hard football fan and Philadelphia-loving neighbor was cursing the NFL and city out loud!  Can you imagine if this is how people spoke of your business?  If they did, chances are you'd be out of business.
In the end, the Draft itself was a great experience for all who attended, and people raved about the city.  Fantastic, but why stop there?  There's a valuable lessons in all this, which is that nobody likes to feel as though her or his experience doesn't matter.  So, you need to make sure you cover all your bases (sorry for the mixed-sports metaphor) reach out and ask, even when you know the answer may be one you don't want to hear.  Just do it, as one famous brand dictates, as it sends the message that their experience matters.  Had the Draft organizers or city had done more of this, well, we still may not have been happy about the cost/reward scenario, but it may have earned some begrudged supporters instead of cultivating a band of detractors.  And what business wants that?